Posted by Mr Solar on 19th Sep 2014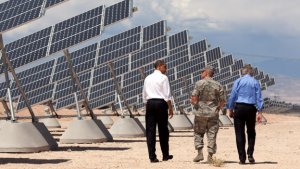 The Obama administration today announced several actions aimed at improving energy efficiency and increasing the use of residential and commercial solar energy. The measures include $68 million in spending for the Department of Agriculture.

The goal for the White House is to reduce carbon dioxide emissions by the equivalent of what 60 million cars produce in a year, or 300 million tons of particulates, and saving $10 billion in energy costs. Reducing carbon emissions is a major agenda item in the Obama administration's effort to mitigate climate change.

The actions, together with commitments from states, communities, companies and others, are part of President Obama's second-term push to reduce carbon emissions in an effort to mitigate climate change.

They follow other recent efforts to help the solar power industry, including a series of announcements in April to spur solar deployment, a White House-hosted summit on solar power and a May decision to install solar power panels on the White House.

In order to stimulate solar energy implementation in rural areas, the U.S. Department of Agriculture will spend $68 million on 540 renewable energy and energy-efficiency projects, 240 of which are solar power projects.

Veterans are also beneficiaries of Thursday's announcements. The U.S. Department of Energy will conduct a pilot program at three U.S. military bases which will train a combined 90 personnel in various solar PV careers including installer, PV system design and inspection, and solar business and sales.

Other actions by the Obama administration to spur growth in solar energy include a funding program for the Department of Housing and Urban Development, energy-efficiency measures by the USDOE, and commitments from state and local goverments and from corporations, some of which involve full-scale solar installations in communities and commercial buildings.