Solar Sign Lighting Kits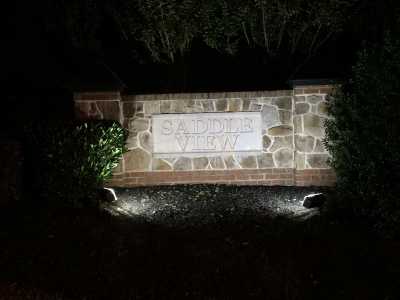 Click to enlarge
Solar monument sign lighting system in action at the entrance of the Saddle View subdivision in Forest Hill, Maryland.
One of the most important factors in promoting your business is your signage. There are many varieties of signs. Some are neon and some lighted from the inside by flourescent light bulbs that cast light on a printed, opague surface enclosed by a steel frame atop a pole. But many business signs consist of a simple brick or stone structure flanked perhaps by landscaping features or stand-alone signs that are not otherwise illuminated by neon or light bulbs. These kinds of signs require a separate light source. Usually this seperate lighting source is a hard-wired spotlight that is a few feet away from the sign and pointed directly at it so that it is illuminated at night. For signs that have no lighting, one alternative is to trench an electrical conduit from a building to the sign and hooking up to the building's electrical system, thereby incurring installation costs as well as a higher monthly electric bill. Another option is to take your signage solar! A solar panel collects light from the sun to charge batteries during the day and then uses that power to light the sign at night. No trenching. Easy install. No increased electric bill!
Here at MrSolar.com, we carry solar sign lighting kits capable of illuminating small and large signs. Our 6' x 6' sign light kits illuminate up to 36 sq. ft. and includes one light. Our 6' x 12' solar lighting kits illuminate an area up to 72 sq. ft. and inlcudes two lights.
Common uses for our solar sign lighting system kits include lighting billboards, business signs, and monument lighting.
How Do I Know Which Sign Lighting System I Need?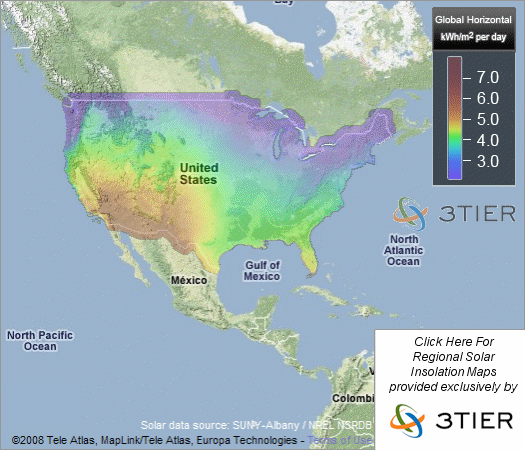 It's really easy to determine which of our solar sign lighting systems you will need. Just follow the steps below:
Step #1: Number of Lights
Based on the size of your sign, determine how many lights you will need. A single LED floodlight is designed to cover a 6' x 6' area. Two LED floodlights are designed to cover a 6' x 12' area.
Step #2: Insolation Hours
Use the map to the right to find the approximate sun hour rating of your sign location. Clicking on the map will open a window showing more detailed regional maps to help you determine the most accurate sun hours rating.
Step #3: Lighting Hours
Determine an operating time that is suitable for your sign light. Using the chart below, match your insolation hours and lighting hours to the appropriate sign lighting kit. Each kit is designed to provide 5 day of autonomy (battery backup).
6' x 6' Solar Sign Lighting Kit
6' x 12' Solar Sign Lighting Kit
Sign Lighting Kit Nomenclature

PLEASE NOTE that our kits include side of pole mounting hardware. Other mounts are also available. For a custom quote, please email sales@mrsolar.com