Designed for modest power and energy storage requirement off-grid applications, the SystemEdge Cabin Series is perfect for off-grid weekend cabins or modest-load permanent residences. With two packages available, the Cabin Series delivers enough power and storage to support a typical load profile made up of a continuously running refrigerator, 10 lights, ceiling fan, computer, and a well pump.*
The SystemEdge SE-420NC 4kW Cabin Series Power System Bundle includes the following:
FPR‐4048A 4.0kW FLEXpower Radian Power Inverter
IBR‐2‐48‐175 battery rack and eight 200NC batteries providing 19.2kWhs of nameplate energy storage
ICSPLUS‐1 rapid shutdown combiner system.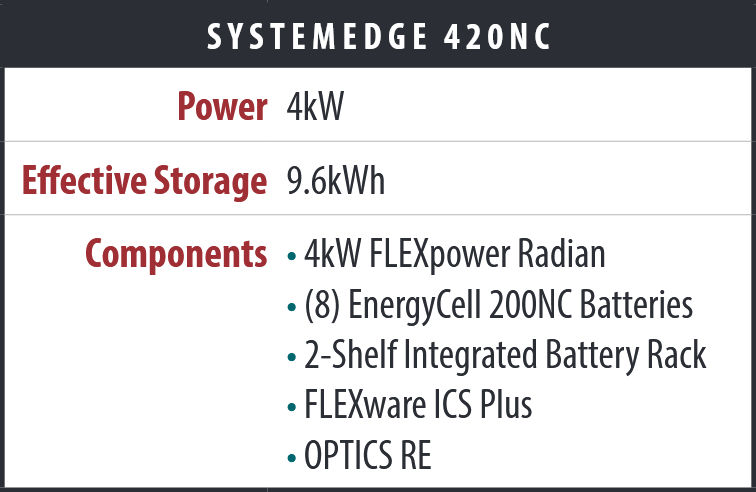 Contact us for special pricing for systems shipped to Texas, Florida, and Puerto Rico!
In the wake of the recent historic barrage of hurricanes that have had devestating effects on people and property in Texas, Florida, Puerto Rico, and the U.S. Virgin Islands, we are implementing special pricing consideration for those areas affected by these destructive storms. For more information on this special pricing, please contact us at sales@mrsolar.com or call us toll-free at 888.680.2427 and we'll be glad to assist you.
* Load profiles shown are based on an efficient overall energy plan and on typical appliance power requirements and are for illustrative purposes only. Please call 888.680.2427 or email us if you have any questions about your application.
** SystemEdge Series power system bundles DO NOT INCLUDE a battery system charging source. However, this battery system can be charged using a PV array, wind turbine(s), or a generator(s), or a combination of these sources.
For more information about the SystemEdge Cabin Series SE-420NC 4kW Off-Grid Power System Bundle from Outback Power, please feel free to contact us here or call us at 888.680.2427 or email us and we will be glad to assist in any way we can. Thank you for visiting Mr. Solar™, your last stop for solar power systems and components.
This tab is currently undergoing development. Please refer to our Shipping & Returns page for this information. Thank you.
This tab is currently undergoing development. Thank you.
This product hasn't received any reviews yet. Be the first to review this product!
Write a Review