You've done your homework and know that solar is a good investment for you, so now you're ready to pull the trigger and purchase a solar photovoltaic (PV) array? Selecting the right solar contractor is incredibly important, so being informed about what to look for and what to look out for when selecting a vendor is critical. Here are a few things to consider when shopping around for a solar contractor:
1. Look for credentials – Don't make your decision on price alone, as the quality of work may vary considerably from one firm to the next. In fact, there are lots of sub-par solar contractors out there. To avoid being duped, look for businesses with strong reputations that have paperwork to back it up. Be sure to ask for proof that companies' employees are trained and certified to install solar arrays and always verify their reputation via online websites, like Angie's List.
2. Check for risk coverage – Just like any home improvement project, there are a lot of things that could go wrong on the job. To position yourself in a less risky position, make sure your solar company has insurance and proper licensure so you're not held liable. At a bare minimum, select a contractor that has liability insurance, worker's compensation and a contractor's license.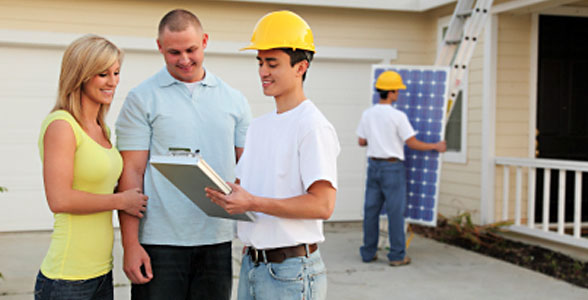 3. Work with a one-stop shop contractor – There are a lot of companies that appear to offer a turnkey solution, but actually subcontract bits and pieces of their work to other contractors. The result is you get passed on from one contractor to the next and may end up paying more. This can also result in multiple visits to your home – a huge inconvenience when all is said and done. To avoid this, look for a contractor that truly offers a turn-key solution and can install your solar PV system from A to Z – not only is this good from a customer service perspective, but this often enables these types of companies to save you money by capitalizing on economies of scale and cutting overhead costs associated with working multiple companies.
4. Know what you're paying for – The devil is in the details of each bid so make sure you understand what is included and what is not included in your contractors' bids. At minimum, make sure the bids have individual line items for labor and parts and include a clearly delineated time table for when different parts of the project –signing, implementation, inspection - will be completed. And know how much you owe upfront and at other milestones throughout the project.
5. Get a warranty – Reputable solar companies are able to stand behind their product and installation so be sure to select a company that can provide this level of guarantee through a warranty. Solar panels typically have a 10-year payback so go with a warranty that lasts at least this long, but obviously the longer, the better.
Finally, if it comes down to more than one contractor go with your gut. If you've got a funny feeling about a particular contractor, there may be something to your wariness. So, get informed and have fun hunting for a solar contractor!
Recent Posts
Although solar energy is a sustainable power source, it doesn't mean your equipment will last f …

Today is National Beer Day ( #NationalBeerDay ) and for many breweries across the world light …

Businesses have faced many challenges in the years since the Great Recession, a stormy time of econo …