Jump Directly to Sign Lighting Kits »
One of the most important factors in promoting your business is your signage. There are many varieties of signs. Some are neon and some lighted from the interior by flourescent light bulbs. But many business signs consist of a simple brick or stone structure flanking a wooden sign that is not itself illuminated by neon or light bulbs and requires a separate light source. Usually this seperate lighting source is a hard-wired spotlight that is a few feet away from the sign and pointed directly at it so that it is illuminated at night.
Here at MrSolar.com, we carry solar sign lighting kits capable of illuminating small and large signs. Our 6' x 6' sign light kits illuminate up to 36 sq. ft. and includes one light. Our 6' x 12' solar lighting kits illuminate an area up to 72 sq. ft. and inlcudes two lights.
How Do I Know Which Sign Lighting System I Need?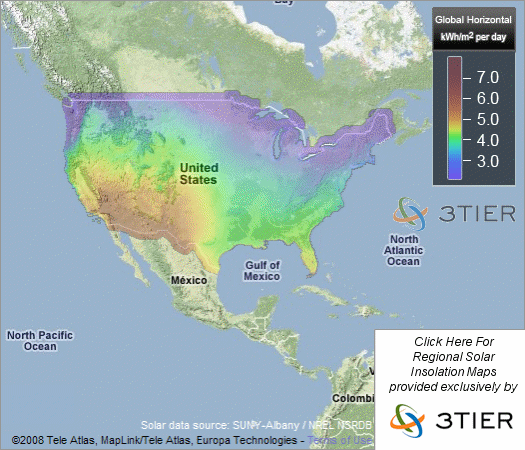 It's really easy to determine which of our solar sign lighting systems you will need. Just follow the steps below:
Step #1: Number of Lights
Based on the size of your sign, determine how many lights you will need. A single LED floodlight is designed to cover a 6' x 6' area. Two LED floodlights are designed to cover a 6' x 12' area.
Step #2: Insolation Hours
Use the map to the right to find the approximate sun hour rating of your sign location. Clicking on the map will open a window showing more detailed regional maps to help you determine the most accurate sun hours rating.
Step #3: Lighting Hours
Determine an operating time that is suitable for your sign light. Using the chart below, match your insolation hours and lighting hours to the appropriate sign lighting kit. Each kit is designed to provide 5 day of autonomy (battery backup).
6' x 6' Solar Sign Lighting Kit
6' x 12' Solar Sign Lighting Kit
Sign Lighting Kit Nomenclature
PLEASE NOTE that our kits include side of pole mounting hardware. Other mounts are also available. For a custom quote, please email sales@mrsolar.com
Contact Us
642 Ponte Villa South
Baltimore, MD, 21230
Phone: 888.680.2427
Fax: 410.528.9445


Business Hours (ET/PT)
Monday-Friday: 8am to 5pm
Saturday: Closed
Sunday: Closed
Who are we?
Online Solar, LLC and MrSolar.com are a family-owned and operated business based in Baltimore, MD, USA, that provides solar and wind energy products to customers across North America.
A+ Rating at Better Business Bureau
Solar energy equipment experts
Project engineering available